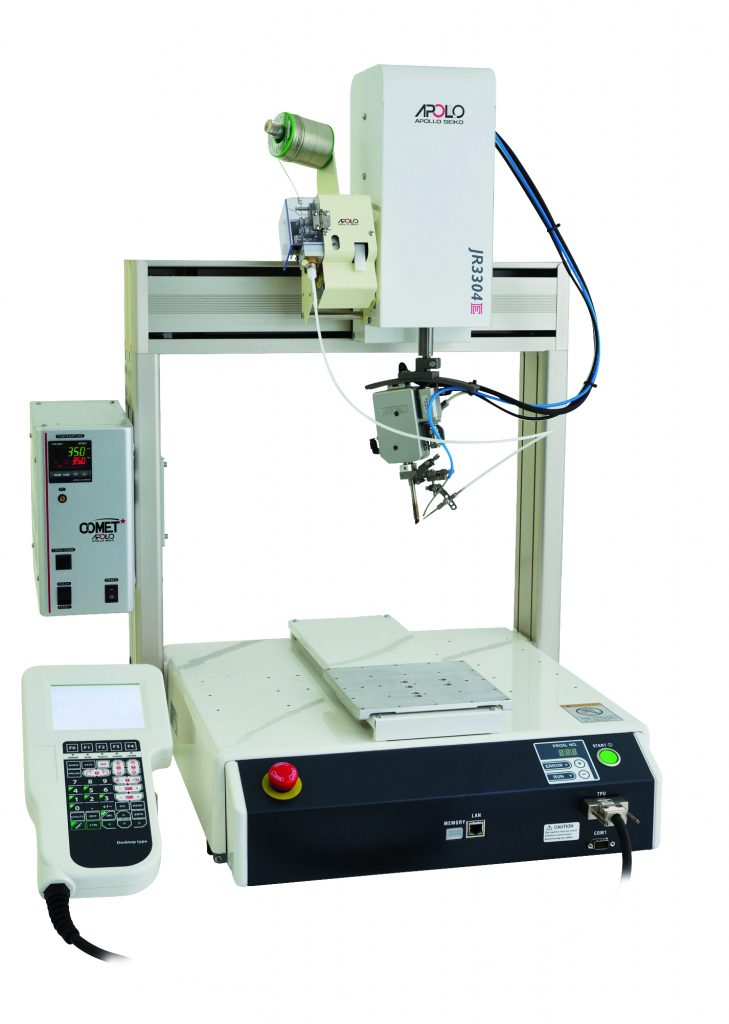 This iron-tip soldering robot comes in 5 work envelope sizes ranging from 200mm to 600 mm.  Highly expandable and accompanied by simple, clean, customizable software, the J-CAT COMET is very flexible and easily tailored to meet your needs.
Improved Speed and Accuracy
New iterations of the Comet have improved accuracy for high-detail soldering and increased maximum operating speed to 900mm/sec. The portable weight is 15kg, and the tool portable weight is 7kg(on robots with 300 stroke size or more).
6-Axes Support (Optional)
While previous models had a 4-axes control, the new COMET can control an additional 2 axes. Part rotation or direction change is achievable, and solder wire supply angle can be changed to meet your application requirements. The additional 2 axes control provides for external control of a conveyor,motor or rotary table. This allows for increased automation and minimizes operator intervention.
LAN (Ethernet) Port
An Ethernet connection can send and receive teaching data via a PC interface, thus improving data management backup. Connecting the PLC allows operation control of the robot. Various communication methods can be selected.
Type

J-CAT 320 Comet

J-CAT 330 Comet
J-CAT 340 Comet
Drive Method

5-phase stepping motor

Encoder
4-axes Applicable

Resolution
X, Y, Z Axes

0.01 mm

R Axis

0.08°
Operation Range

X, Y Axes

200x200 mm

300x320 mm

400x400 mm

Z Axis

50 mm

100 mm

150 mm

R Axis

±360 °
Portable Weight

7 kg

15 kg

Maximum Speed

X, Y Axes

700mm/sec.
900mm/sec.
Z Axis

250mm/sec.

400 mm/sec.

R Axis

600°/sec.
900°/sec.
Repeatability
X, Y, Z Axes

±0.01mm
R Axis

±0.008°
Teaching Method

Remote Teaching (JOG)

Manual Data Input (MDI)

External Input/Output

Input :16 Output:16

Program Capacity

999 programs

Memory Capacity

32,000 point

Soldering Condition

Point and slide total; 500 conditions

Setting Temperature

0~500℃
Solder Feeding Speed

1.0~50.0 mm/sec
Solder Feeding Amount Resolution

0.1 mm

Solder Diameter

With ZSB Feeder

φ0.4~φ1.0mm (Option: φ0.3, 1.2, 1.6mm)
With Normal Feeder

φ0.3~φ1.6mm
Heater Capacity

130W

Air Supply

0.4~0.5MPa (Dry & clean air)

Nitrogen Generator

Available (Option: APN-05)

Display Language

English, Chinese, Korean, Japanese, French, Spanish, German, Italian, Japanese, Czech, Vietnamese

Power Source

AC94~260V (Single phase)

Power Consumption

366W

Dimensions (WxDxH, in mm)

443x447x676
680x535x844

704x691x894

Weight (kg)

30
46

54

Accessories: What can you customize?