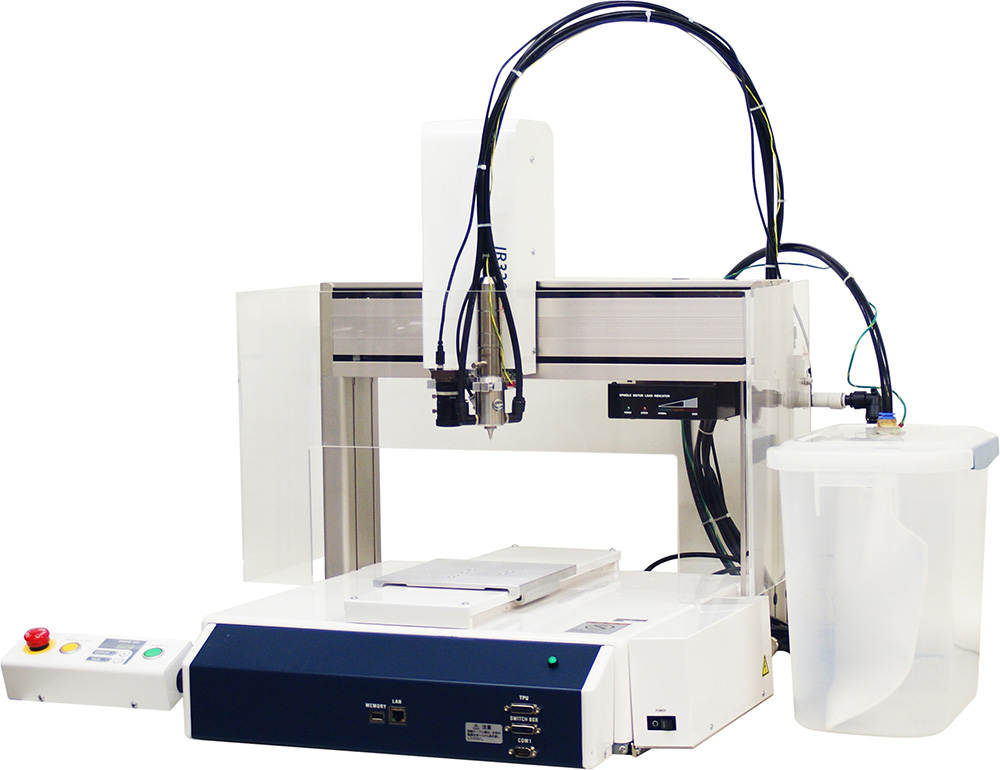 J-CAT GRT
Desktop Cutting Robot
Apollo Seiko introduces a new line-up of three axes desktop robot models with integral position detection encoders. An electric router with exclusive and easy to use software and high powered dust collection kit are included.
A glass epoxy or standard FR-4 PCB equal to or less than 1.6 mm thickness can be cut while monitoring the router bit sharpness. This capability reduces faulty cutting situations. With the addition of a router life sensor and a USB camera teaching function (option), the J-CAT GRT is much more efficient and allows for a more stable process.
Three models of PCB cutting robots are available.
J-CAT GRT 200
J-CAT GRT 300
J-CAT GRT 400
J-CAT GRT Specifications
Mode

J-CAT 200 GRT

J-CAT 300 GRT

J-CAT 400 GRT

Maximum Work Dimensions
X=200mm, Y=195mm, Z=45mm
X=300mm, Y=320mm, Z=95mm
X=400mm, Y=400mm, Z=95mm
Size (W x D x H)
Weight
350 x 436 x 615 mm
26kg
585 x 580 x 650 mm
39 kg
646 x 641 x 650 mm
47 kg
Applicable Board Material
Glass epoxy / Paper phenol laminate, etc. (Maximum thickness 1.6 mm)
Tool Specifications
DC brushless motor
Rated speed 40,000 rpm
Trace Accuracy
0.2 mm (guide value)
(When router 0.8 mm, cutting speed 10 mm/s, PCB thickness 1.6mm)
Teaching Method
Remote (JOG) / Manual data input (MDI)
Vacuuming Method
Ejector
Power Supply
AC90 ~ 132V AC180 ~ 250V1Ph/340VA
Air Supply
0.5MPa (Only dry clean air)
Air Consumption
200NI/min
Standard Accessories
Teaching pendant, Manual, Software(Factory installed), Dust collecting kit, Router bit (Consumable) and Spare vacuum nozzle