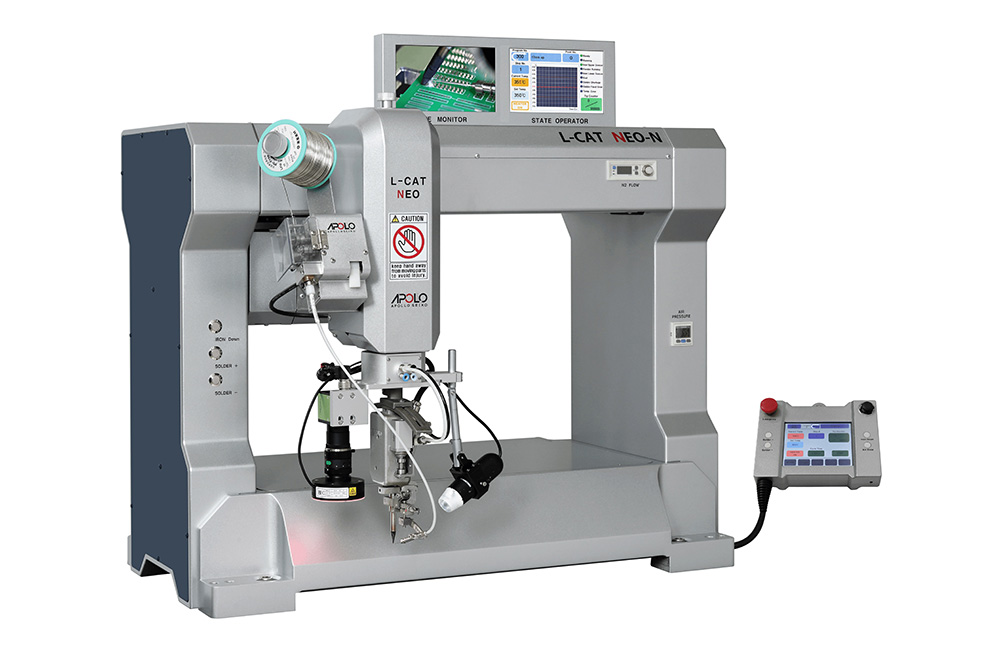 3rd Generation Solder Robot, L-CAT NEO-N
This is the next generation robot which has all the functions necessary for selective soldering built into the machine. The L-CAT NEO-N has been designed for either an in-line or lean manufacturing process. A data management is available for PC communication, smart phone (IPhone, IPAD, Android) and mobile equipment.
All-Inclusive
We have over 40 years of results and experience as a soldering robot manufacturer.  Our application knowledge and customer requirements have made us stronger than our competitors.
Gantry Type Soldering Robot Exclusive
X, Y, Z and ZR axes are the all including X axis, are available the easy designing fixture and conveyer layout. Heavy work and long length work are no problem for the L-CAT NEO-N because there is no need to move the fixture. Moreover, this is available to the in-line and cell production.
Programming Freedom
Normally soldering robots are fixed sequence.  However, L-CAT NEO-N has a highly flexible soldering sequence that can be customized to meet the needs of your specific application.  The L-CAT NEO-N offers flexibility for customization of parameters for applications which require high thermal energy as well as fine pitch devices.
Device choice, rich function of communication system
The robot management to the computer is now taken as a matter of course, you're smart phone can communicate to the robot. The performance is becoming the name of next generation robot.
Features include:
Available for Windows 7, Windows 8.1 and Windows 10 (32, 64 bit)
Can manage multiple robots for Ethernet
Data logging to the robot's state. Saved as CSV file type
Sends/Receives and edit and save teaching data
Teaching and data managment used on iPhone, iPad, Andriod and Windows smartphones