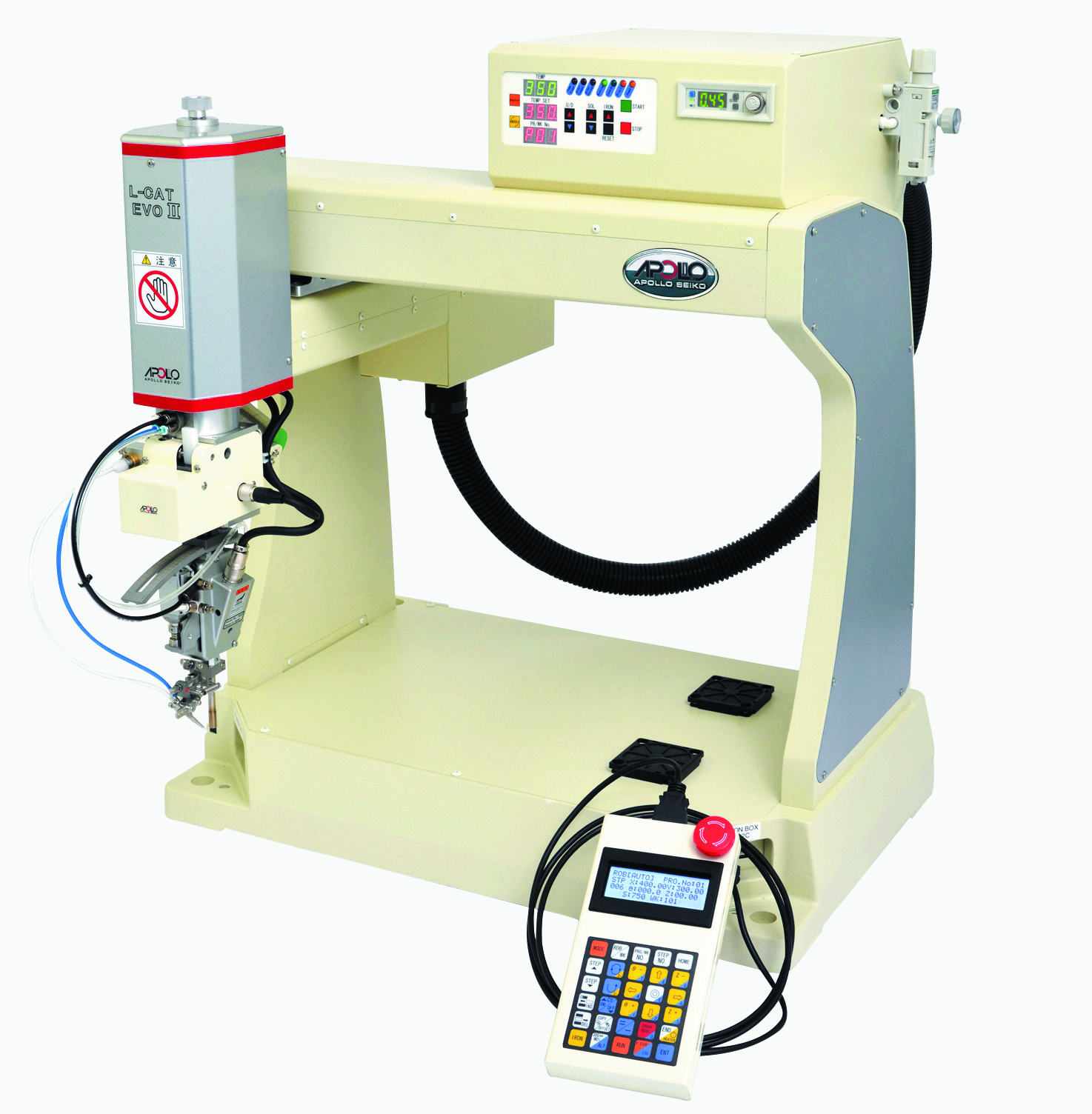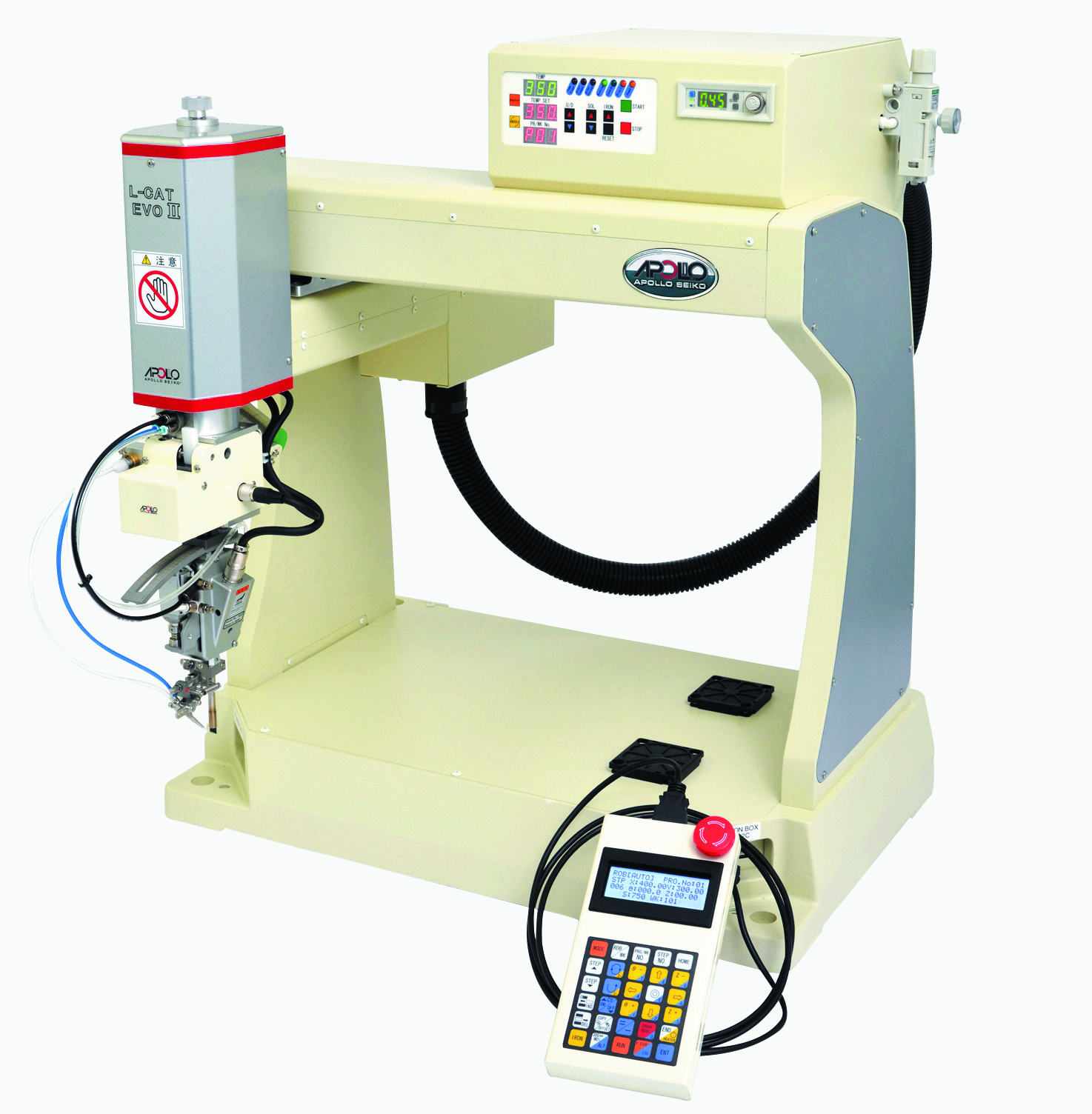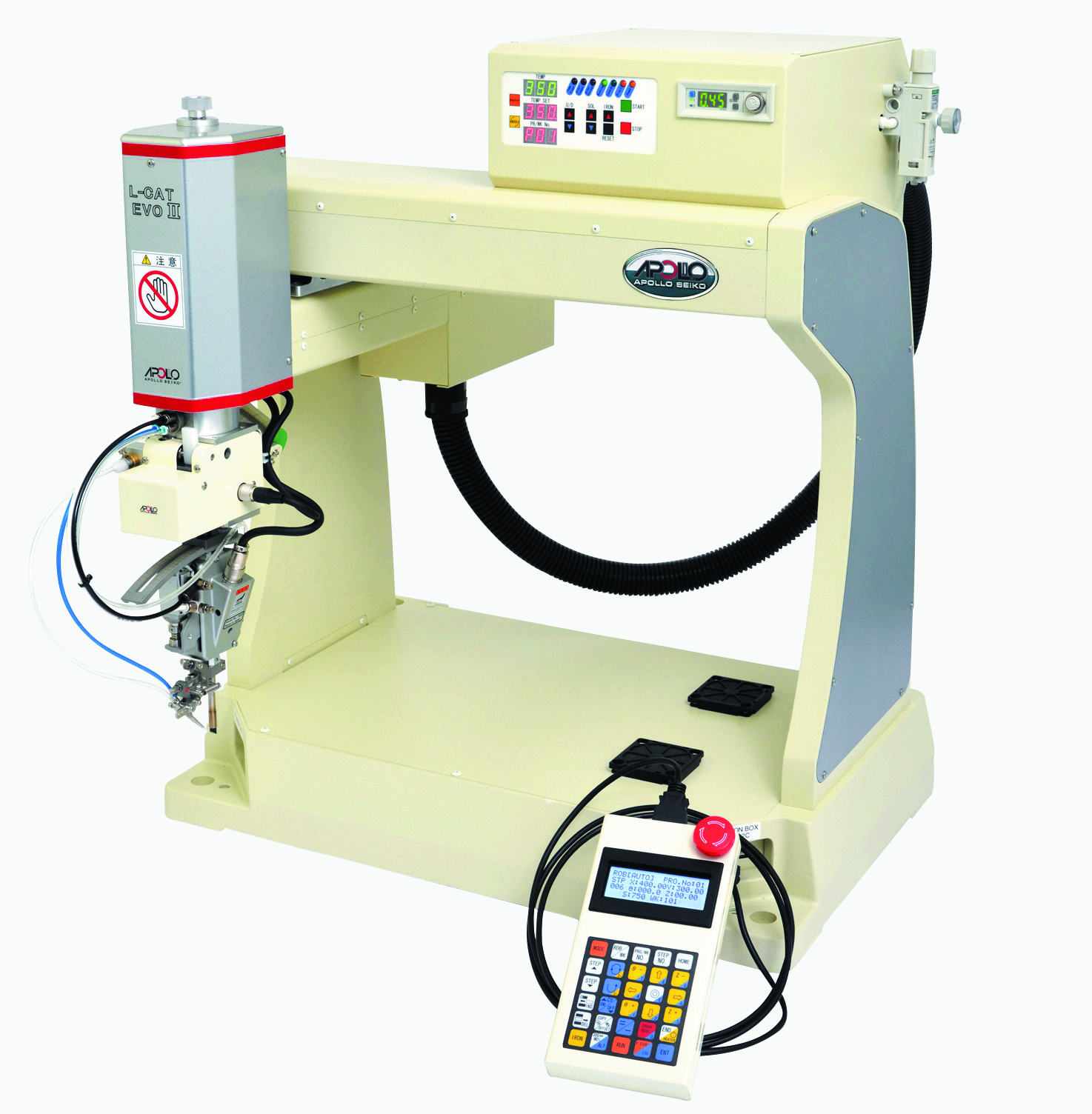 L-CAT EVO-II
L-CAT EVO has been upgraded and renamed as L-CAT EVO-Ⅱ. This robot can be used for  in-line or desktop applications.
The L-CAT EVO-Ⅱ has expanded Input and Output capability and an Ethernet function. The X/Y/Z/R-axes move more smoothly and are much more reliable.
The L-CAT EVO-Ⅱ has a capacity of 100 programs and 100,000 points to meet virtually all PCB soldering requirements. The soldering temperature can be customized inside each of the 300 soldering profiles to provide optimal quality and cycle time.
X&Y motors with high accuracy rotary encoders achieve 0.01mm resolution (repeatability 0.02mm) with a maximum speed 750mm/sec.
PC SOFTWARE
PC software available to store all teaching data and soldering parameters; data copies, inserts and deletes using Microsoft Excel.
---
CAMERA MONITOR
Optional camera and monitor allows for fast, easy teaching with close-up view directly on screen.
---
ZSB FEEDER
Built-in roulette blade cuts directly to flux core while precisely feeding wire solder; guaranteed Zero Solder Balls with high quality results.
---
SPONGE ROLLER CLEANER
SRC-3000
Wet sponge roller neatly removes residual solder from iron tip; solder work area remains clean.
---
N2 GENERATOR
ALN-01
Nitrogen gas (N2) forced over ™ iron unit to clean soldering surface and eliminate oxidation. Pre-heated N2 gas while passing thru the iron unit allowing temperature to be lowered.
---
FUME EXTRACTOR
Solder fumes vacuumed through silicone tube attached directly to point of solder; combination of two filtering units, pre-filter and main filter removes all harmful gases, prevents flux build-up on iron unit, extends tip life while keeping environment clean.
ROBOT
Soldering
Solder Profile
Temperature
Solder Feeding
Delay Timer
Iron Up/Down
Usable Diameter
Heater Capacity
SOLDERING PARAMETERS
# OF PARAMETERS
SOLDER STEP
SETTING TEMPERATURE
SOLDER FEEDING UNIT
DELAY TIMER
IRON UP/DOWN
ACCEPTABLE SOLDER WIRE
HEATER CAPACITY
L-CAT EVO DIMENSIONS
dimensions screenshot Specifications
_
198 soldering parameters
21 Step (free combination)
TEM 0~500 C
S+/-: 1~100mm
TIM: 0.1~99.9 (sec)
CY: On/Off
0.4mm – 1.6mm
100w
SOLDERING PARAMETERS
300 conditions
301 conditions
302 conditions
303 conditions
304 conditions
305 conditions
306 conditions
307 conditions
L-CAT EVO DIMENSIONS
dimensions screenshot Specifications