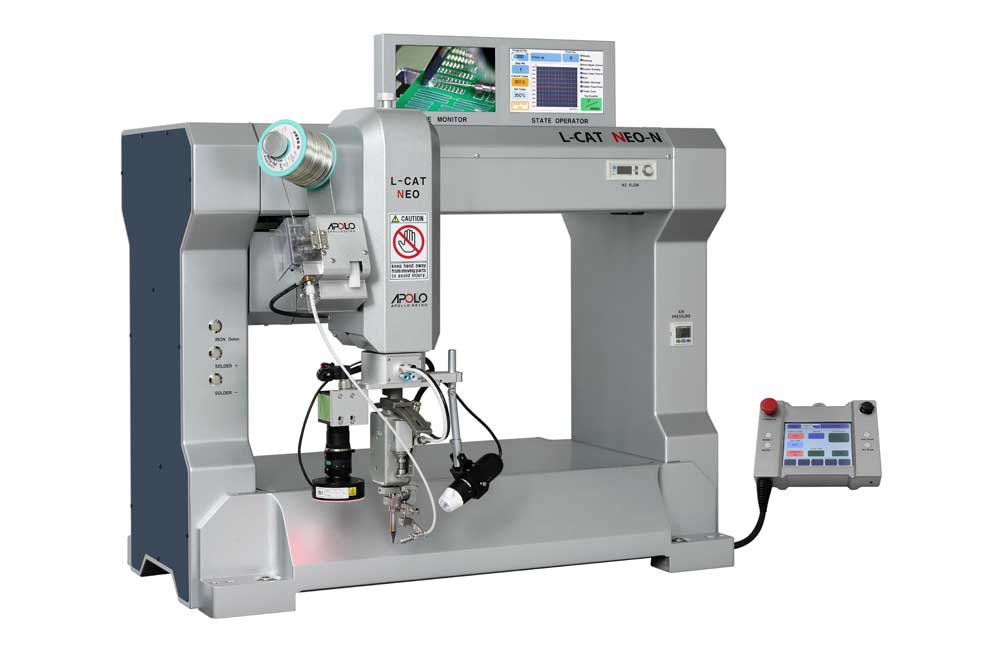 3RD GENERATION GANTRY-STYLE SOLDER ROBOT
The L-CAT NEO-N is the culmination of over 45 years of experience in the robotic soldering industry.
With this next-generation robot we've directly built in all necessary elements of modern selective soldering. Designed for either an in-line or lean manufacturing process, the L-CAT NEO-N is an exemple of both cutting-edge sophistication and high-speed operation performance.
The built in monitor on the NEO-N allows for viewing the soldering process and aides in programming the application. Robot teaching can be performed by the touch panel Teaching Pendant, a PC or an IPAD. Fiducial recognition and tip position alignment can easily be added to ensure proper tip & PCB alignment. This guarantees an accurate position and ensures the highest quality soldering results.
Easily Adjusted Fiducial Recognition and Tip Position Alignment
Ensure proper tip & PCB alignment with ease. These features guarantee accurate tip positioning and the highest quality soldering results.
Built-in Montior + Variety of Supported Devices
The built-in monitor allows for immediate viewing of the soldering process and aides in programming the application. Software for the primary application is available fo Windows PC (OS: 7, 8.1, 10). Data management and robot teaching can also be managed from iPhone, iPad, Android, and Windows smartphone devices.
Programming Freedom
Normally soldering robots have a fixed sequence to program solder parameters. However, the L-CAT NEO-N has a very flexible solder sequence that can be customized to meet the needs of your specific application. The L-CAT NEO-N offers flexibility of parameter sequencing to provide solutions for high thermal energy, fine pitch devices, large & small lead combinations etc. The soldering parameters (solder feed amount, feeding speed & temperature) can be arranged in a sequence that provides a solution for each particular soldering challenge.
Type

L-CAT NEO-N4330
L-CAT NEO-N4430

L-CAT NEO-N4530

Drive Method

Stepping Motor

Encoder
4-axes Applicable

Resolution
X, Y, Z Axes

0.01 mm

R Axis

0.1°
Operation Range

X, Y Axes

300x300 mm

400x300 mm

500x300 mm

Z Axis

80 mm

R Axis

±180 °
Portable Weight

6 kg

Axis Speed

X, Y Axes

Max : 1200mm/sec. , Min : 0.1mm/sec.
Z Axis

Max: 320mm/sec. , Min : 3.2mm/sec.
R Axis

Max : ±800°/sec. , Min : 8°/sec.
Repeatability
X, Y, Z Axes

±0.01mm
R Axis

±0.02°
Teaching Method

Remote Teaching (JOG)

Manual Data Input (MDI)

External Input/Output

Input :39 Output:39

Program Capacity

511 programs

Memory Capacity

500,000 point

Setting Temperature

0~500℃
Solder Feeding Speed

1.0~50.0 mm/sec
Solder Feeding Amount Resolution

0.1 mm

Solder Diameter

With ZSB Feeder

φ0.4~φ1.0mm(Option: φ0.3,1.2,1.6mm)
With Normal Feeder

φ0.3~φ1.6mm
Heater Capacity

130W (Option: 200W available)

Nitrogen Generator

Standard equipment to robot included with digital flow meter

Display Language

English, Chinese, Korean, Japanese

Power Source

AC94~260V (Single phase)

Power Consumption

650W max

Other
Equipped with monitoring camera

Dimensions (WxDxH, in mm)

690x686x800
790x686x800

890x686x800
Weight (kg)

90
95
100
Accessories: What can you customize?