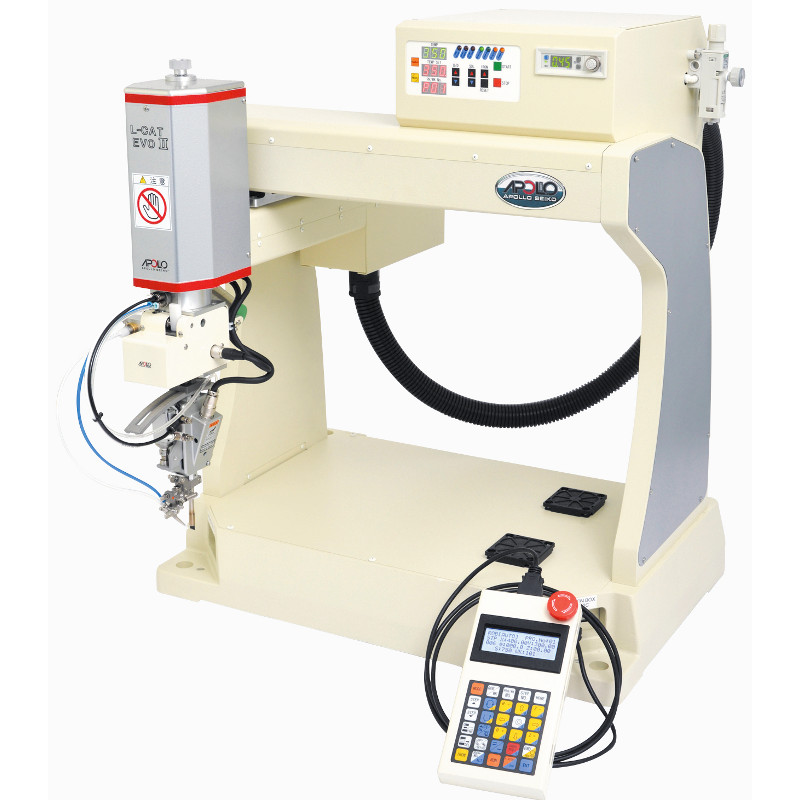 The latest iteration of the EVO line, the L-CAT EVO II is an iron-tip robot designed for both desktop and in-line applications, with smoother and more reliable axes, expanded I/O, and Ethernet capability.
Where the EVO II truly shines is flexibility. With a capacity for 100 programs, 100,000 points, and 300 soldering profiles with customizable soldering temperature for optimal quality and cycle time, this machine is capable of meeting virtually any PCB soldering requirement.
Throw in its X&Y motors with high-accuracy rotary encoders, achieving 0.01 mm resolution (repeatability 0.02mm) and a maximum speed of 750 mm/sec, and you can see what makes the EVO II a reliable choice.
Type
L-CAT EVO II 4330
L-CAT EVO II 4430
L-CAT EVO II 4540
Drive Method
5-phase stepping motor with X,Y axes
Operation Range
X, Y, Z Axes (mm)
300x300x60
400x300x60
500x400x60
R Axis
340 °
Weight (kg)
50
52
55
Portable Weight (kg)
3
Axis Speed
X, Y Axes
750 mm/sec.
Z Axis
150 mm/sec.
R Axis
360°/sec.
Repeatability
±0.02mm
Teaching Method
Remote Teaching (JOG)
Manual Data Input (MDI)
SYS-I/O
Input :16 Output:10
Free I/O
Input: 16 Output:16
External Interface
Ethernet, RS232C
Program Capacity
100 programs
Memory Capacity
100,000 point
Timer
TIM: 0.1~99.9(m/sec.)
Iron Up/Down
CY: ON/OFF
Setting Temperature
0~500℃
Soldering Conditions
198 conditions
Soldering Step
21 step
Solder Feeding Speed
1.0~50.0 mm/sec
Solder Feeding Amount Resolution
0.01 mm
Solder Diameter
φ0.4~φ1.6mm
Heater Capacity
130W (Option: 200W available)
Nitrogen Generator
Standard equipment to robot inside, with digital flow meter
Display Language
English, Chinese, Korean, Japanese
Power Source
AC94~260V (Single phase)
Power Consumption
330 VA max (including heater)
Air Supply
0.4~0.5 MPa (dry & clean air)
Dimensions (WxDxH, in mm)
520x995x714
620x995x714
720x1100x714
Accessories: What can you customize?